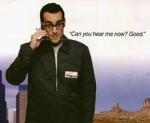 About three years ago I started my Verizon Wireless phone plan. My service was problem free until I decided to move to Cary, IL. When I made calls from near or at my house, the signal strength was very low, resulting in me saying, "Can you hear me now?", every time I talked to someone on the phone. After calling Verizon numerous times to resolve the problem, and playing a role in several over-the-phone tests, they finally agreed to send a crew out to evaluate the coverage in my area.

When the strength was found to be low, Verizon sent me a new phone that was compatible with both their analog and digital networks (apparently, the phone I had was digital only). They also told me that if it didn't fix the problem I could cancel my service plan with no early cancellation fee.

The new phone Verizon sent me was the LG VX-3200, which was not comparable in features to the phone I had to give up, which was the Samsung SCH-A530. Even thought the new phone worked with both analog and digital signals, it still didn't work any better than the old one. I was just surprised they would cancel my plan without a fee, even after signing an agreement when my plan started.

So, if you choose Verizon Wireless as your service provider, remember that if, "You can't hear me now", let them know, and they will try to help you out.