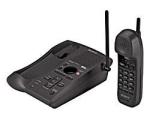 A TechLore "Ask the Experts" Question...
Question:
I am looking for instructions for remote retrieval of messages from Sony SPP-A941 cordless phone and answering system.
-submitted by Barbara Lynn
Answer:
Remote message retrieval is certainly a great feature of answering machines these days. For those who may not be aware of this feature, remote retrieval allows you to dial your home number from any touch-tone phone and listen to the messages on your answering machine. If you set this feature up right, no longer do you have to wait until you get home to see if the important message you've been waiting for is there.
The instructions for setting up remote retrieval vary from unit to unit. While the setup instructions below are specific to the Sony SPP-A941, you'll find that most answering systems are similar in operation.
Set Up Security Code
To check messages remotely, you will need to have the security code for the unit. The security code is what keeps others from checking your messages. On the Sony SPP-A941, perform the following steps:
Press MENU repeatedly until you hear "Set up security code".
Press SELECT to change the security code setting.

(Pressing and holding will increase the code by 10)

Press TIME/SETto confirm the your choice. The unit will announce the security code.
Press PLAY/STOP to exit the setup mode.
Checking Messages Remotely
Armed with your new security code, you can dial in and check your messages from any touch-tone phone. To check your messages:
Call your phone number from a touch-tone phone.
When you hear your greeting, press # and enter your security code. You will hear a confirmation beep, followed by a number of new messages announcement.
You can perform just about every function of the machine remotely using different codes. These operation codes are located on page 36 of your manual. When you are finished, disconnect the line and the machine will resume standard operation.
Matt Whitlock - Editor, TechLore.com
Need a Manual
Don't have a manual for the Sony SPP-A941? You can view it online or download by clicking here.
Did You Know...
Many phones have a paging feature to help you track down a missing phone. Click here for more.
Cordless telephones use rechargeable batteries to power the handset. Read "Getting the Most Out of Rechargeable Batteries" to learn how to make those rechargeables last as long as possible.
While You're At It...
Cordless phone battery not lasting as long as it used to? While you're setting up your phone system to do more for you, why not take a minute to swap out that aging battery for a new one. Pick up a brand new BP-T23 battery pack at Buy.com, and get the most out of your cordless phone.