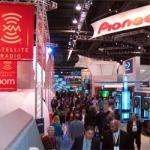 Las Vegas is the hot place to be in early January. Every year, thousands of manufacturers from all over the world gather together for the International Consumer Electronics Show, now the largest product exposition on the planet. Among the casinos, lights, and entertainment that Las Vegas is famous for, industry professionals are getting a sneak peek at the latest and greatest gadgets the coming year has to offer.
This year was another record-breaking year for the event. The initial attendance figures for this years CES totaled over 150,000 visitors, which is 5,000 more than the 2005 total figure. Not only was the attendance up, but also the number of exhibitors increased from 2,300 to 2,500, which caused the event to spill into the nearby Sands Convention Center to help accommodate the 1.67 million square feet of space needed to host the event. By now, it's safe to say that CES is much more than a simple trade show... it's a spectacle.
Show Impressions
On the flight home to Chicago I found myself comparing this years CES to 2005's show. There was no contest that 2006 was a larger event, considering that the show now dominates the Las Vegas Convention Center, most of the Sands Convention Center, and many surrounding hotels. And yes, everything in the show was more over-the-top than last year. The booths were bigger; there was more lights, famous celebrities, musicians, etc., but it all seemed like more of a cover to hide the fact that there just weren't that many exciting product announcements.
Sure, there were some new and exciting things to see, but most of the show seemed more like small improvements on last years exciting products rather than the introduction of new things. In fact, most of last years hit products were still in the limelight this year, like the Sonos AV music system and Sling Media's Slingbox.
Things Are Changing...
If I had to choose one word to summarize this year's show, I would have to use the term "change". The major announcements and common themes among CE manufacturers were really more about major industry changes and new service offerings, rather than just individual products. Some of these changes are so huge that every consumer in the world will feel the ramifications. Unfortunately, many of these changes will not be felt for a few more years to come. Here are a few of the highlights:
IPTV
Expect the coming years to completely change how you get your television programming. If there's anything that was certain, IPTV (television provided over the Internet) is coming sooner than anyone expected. In fact, everything you know about receiving and watching television signals is going to change, including who provides the content. Someday soon, you could be paying your phone company for television programming. Expect to hear a lot more about this next year.
Viiv
Intel announced Viiv, but they really have no idea how to explain it. It's not a new processor, or some other piece of hardware, but some combination of "simple functionality, an Intel dual-core processor, and premium content". After listening to a 40-minute keynote on the subject, I can honestly say I knew less about Viiv than when it was done.
I know for a fact that Viiv is not really a product, but more of a brand name that represents a bundle of technologies that focus on entertainment. Obviously, Intel is hoping to replicate their enormous success with the Centrino brand, which was a mobile focused platform designed around the Pentium M core and wireless Internet access. Will it work? Only time will tell...
Windows Vista
Believe it or not, Microsoft was one of the most exciting companies at the show. As software continues to become a more important factor in CE devices, Microsoft will only become more and more important with each passing year. Much of their show success came from the working demos of Windows Vista, and it's nothing short of amazing. It may have taken them forever to come out with a new OS, but I'm pleased to say it looks like they're doing everything right.
Also announced was a new music service called URGE, which will offer over 100 CD quality radio stations, as well as offer access over 1 million songs via a subscription service. You can probably expect Microsoft to help push the URGE service by using the launch of Windows Vista to their advantage.
Continue to page 2 >> [[page]]
HD-DVD & Blu-Ray
CE manufacturers are gearing up for war, and it's going to be a bloody mess that will seriously hurt consumers. Each camp is foolishly pushing forward on their plans to release both formats into the marketplace as early as this spring. Initial reports indicate that Blu-Ray players will debut with an MSRP around the $1,000+ price point, while HD-DVD players could ship with players starting as low as $499. With the news of Microsoft making an external HD-DVD add-on for the XBOX 360, and the Playstation 3 not expected until fall, one could only imagine that HD-DVD has the upper hand in the marketplace.
My question: Who is going to gamble away $500 to $1500 dollars HD-DVD or Blu-Ray player when one of them is ultimately slated for extinction? I think the Las Vegas surroundings of CES have given manufacturers the wrong idea on how Americans spend money. To learn more about my position on the HD-DVD/Blu-Ray war, read HD-DVD and Blu-Ray Not To Merge - War on the Horizon.
Content On the Go
Playing your content from wherever you are is also a major shift from what it was last year. Sling Media brought the concept of place-shifting to the table during the 2005 CES with the debut of the Slingbox, a product that allows someone to watch and control their home television content on any Windows computer anywhere on the planet. This year they introduced SlingPlayer Mobile, an application to extend the Slingbox's place-shifting magic to any Windows Mobile device.
Sling's not alone either. Sony was showing off their Location Free device, and while it currently can't broadcast home content to a smart phone or PDA, it can stream home TV content to the PSP. With other companies like DirecTV and TiVo, who also have some tricks up their sleeve, there's a lot to be excited about in this space.
Thin Is In
Television is one of my favorite product categories, and I saw more TVs during my CES expedition than I ever thought I would see in my entire life. News Flash! TVs are flat, and there is no going back. I can count on one hand how many CRT products I saw, and most of those were in Samsung's Slim-Fit display. The other five hundred million TVs I saw were Plasma or LCD based flat displays, as well as the slim-profile LCD or DLP projection displays. Beyond the incremental improvements in image quality and size, there really wasn't anything exciting about existing technologies.
As far as new developments go, Canon and Toshiba showed off a display based on SED technology (which looked fantastic), but don't get your hopes up for anything soon. LG showed off a wireless link between a flat display and it's control box, which is something that's long overdue. The use of LED backlights in microdisplay projection and LCD flat panel TVs was an interesting development. Using LEDs is supposed to improve color saturation and depth, but I can't say I noticed any significant image quality differences at this time.
Conclusion
2006 was by no means a bad CES, just different from the typical new product frenzy of years past. In some ways, 2006 is the most significant CES yet, not because we saw the products of tomorrow first hand, but instead the "big picture" of how the entire entertainment industry is going to change over the coming years. It's actually pretty funny when you think about it. Based on how the CE landscape is changing, many of the products that were shown at this year's CES are irrelevant in the electronic world of the future.
Even still, there were many innovative and interesting products shown that deserve recognition. Look for my "Top 10 Products at CES" list sometime in the near future.