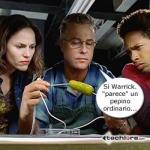 Question:
I have a RCA TV and the menu says "Language --> English". However, when watching TV, the commercials are in English and the program is in Spanish. How do I fix this?
-submitted by lump5628246
Answer:
First, if the language option in your TVs menu says English, that doesn't mean the programming you watch will be in English. This option simply dictates what language the TV's menu and on screen displays themselves will appear in. Depending on the model of the TV, you could have a variety of options here.
Now that we understand what that does, it's time to get your shows back in the right language.