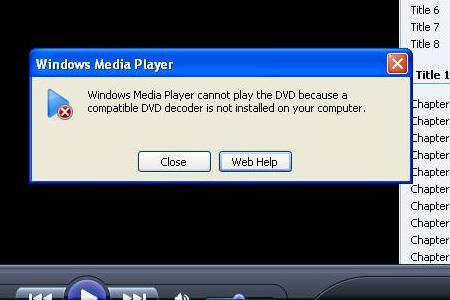 Question from TechLore Member msalessi: I was hoping someone can help me out here. I recently bought a Toshiba laptop, model Satellite L305-S5919. My problem is when I put in a DVD to watch, it gave me an error and said something about a decoder. What does this mean and why won't the movie play? I can't find another application to play the movie on and I really don't want to buy more software for this computer. Am I crazy to assume the computer should've come with something that would allow me to play movies? Please help!
Answer: You're not going crazy, and in fact, you're not alone. The Toshiba Satellite L305-S5919 ships with Windows Vista Home Basic, which does not include the necessary decoder for DVD playback.
Before we get to solutions, the first question you probably want answered is, "Why doesn't Microsoft include a DVD decoder in Windows Vista?" The answer to that is pretty simple... cost. Microsoft pays a licensing fee for each copy of Windows installed with a DVD decoder. While they didn't do this with XP at all, they do include DVD playback in Vista Home Premium and Vista Ultimate. However, they have opted not to include the DVD playback capabilities with Vista Home Basic (due to the low cost of the OS) and Vista Business (since the feature would often go unused in your typical 'cubicle' terminal environment).
That said, I'm somewhat surprised Toshiba didn't opt to include something that would have installed a compatible DVD decoder, like CyberLink Power DVD or a some other custom app. Even stranger is that Toshiba is basically the creator of DVD... you'd think they'd include that feature on all their laptops. Before you do anything, look through the installed programs list for some program that plays media, which may also play DVDs. It may not include a plug in for WMP, but so what?
If still a no go, what can you do? There are three options:
1. Upgrade your copy of Windows Vista Home Basic to Windows Vista Home Premium. You can take advantage of Vista's "Anytime Upgrade" feature to upgrade your copy of Windows in place... for a fee of course.
2. Purchase a DVD playback suite from a third party. These include CyberLink Power DVD (my fav) and Roxio CinePlayer, not to mention dozens of others. With the full version of each, you get compatible plug-ins so you can watch DVDs in their (more powerful) app, or in Windows Media Player if you choose. If you just want the basic decoder, you can purchase just the plug in.. it's not very expensive.
3. Try a few various freeware programs that play DVDs. Most of these don't install "legit" decoder, but use a CSS decrypter to play the DVD files directly. Same result, but a less legit way of doing it. Try VLC Media Player as an example, but a Google search will yield additional options. Just remember, the "free" world of software can be a dangerous place. Use caution.
Have a technology question? Join the TechLore Community and Ask The Experts today!