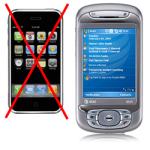 A few weeks ago, I eluded that I would be talking about my latest phone purchase; a topic that's fun since everyone has a cell phone these days. With so many different options out there in both smart and generic phone varieties, I found this purchase more difficult than any of my previous phones.
Prior to this purchase, all my phones had been of the "regular cell phone" variety, with a long streak of owning three Sony Ericsson phones. My trip to phone bliss started with the original Ericsson T68, which shortly after turned in to the T68i when Sony and Ericsson merged their mobile handset divisions. It was one of the first to offer a color screen, and even included Bluetooth. From there I picked up a T160 bundled with T-Mobile service, and while I was very pleased with the phone, the lack of high speed data forced me to make a move to a different provider. My last phone was the S710a, a camera/phone hybrid with EDGE data (fast at the time), and a unique swivel mech that made owning it both cool and annoying. I wrote a review of that phone for TechLore some time ago. You can read it here.
I stuck with the S710a for the full two-year term, and I have to say that I enjoyed owning it. However, I started to itch for better organization, faster data, and more options as the two year contract slowly neared its conclusion. This time I was convinced I needed a smartphone, and that's where I focused my shopping efforts. I always told myself I wouldn't carry a phone that big, but needs and opinions change, and the fact smartphones have shrunk a bit in the past two years doesn't hurt either.
I've had a PocketPC for a while, and found that I really didn't use it much. I know myself well, and I tend to use things when they're with me. If I have to carry two things, one will get left at home. My cell phone never leaves my side, so I was also convinced using a smartphone wouldn't be a problem.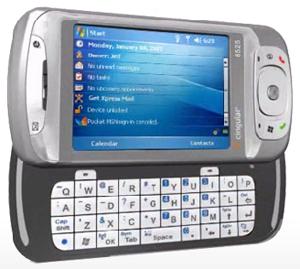 At first glance, Apple's new iPhone seems like a geek's dream come true. It's multi-touch display is innovative, it handles music and video brilliantly, and has a killer mobile web browser. I seriously considered one, and even held off my purchase to evaluate the phone when it was released. To make a long story short, I didn't buy one. I decided I need a phone that lets me install programs at will, browse the web with high speed data, type with a hard button keyboard, tether my data connection to a laptop, and provide a more robust e-mail solution that syncs well with Outlook, etc. And that's what I found in the AT&T 8525; choice, flexibility, and speed.
The AT&T 8525 is a Windows Mobile PocketPC/Phone hybrid with touch screen display, 3G data, keyboard slideout, 2.0 Megapixel camera, 400 MHZ processor, Mirco SD slot, Wi-Fi, PTT (push to talk), and more. It currently runs Windows Mobile 5.0 for PocketPC, which is a bit dated now that Mobile 6 has been released. That would have been enough to shy me away, but AT&T and HTC (the manufacturer of the phone) have promised a free upgrade to Windows Mobile 6 sometime this fall. That was enough to satisfy me.
Stay tuned to Mind Over Matt'er for more on my experience with the 8525, including a list of things I can do with it that iPhone owners can only dream of.
Subscribe to this blog: