Question:
As the resident "Mac guy," I feel a special bond with user Sherry D, who is having some problems with her iPod Nano and iTunes:

"I am following instructions to transfer my CD's to my iPod Nano, but my player is not picking up the songs. I put the CD into the iTunes window, the songs show up on the computer, and I press "import." The songs show they are downloading to the computer. I transfer them to a playlist, and press "sync." The songs then disappear. I try it both with auto syncing and manual syncing. Sometimes all of my songs on the iPod are removed when I try to sync. Help!"
Answer:
Fortunately, I've been a devout iPod user for years, and have cleaned out my iPod on accident many times! To be honest, importing CD's and syncing your iPod can be tricky sometimes. Here's some tips:
1. Transferring CD's
It sounds like you've got this down pat. There's a couple of ways to import songs, and you're using the "one touch" way. iTunes will "import" the songs from the CD into your iTunes Library, and use the information downloaded online to fill in the artist, album art, etc. You can also drag the CD from the sidebar directly into a playlist, which will add it to that playlist at the same time as importing the songs to your library. Or, you could drag the songs to a playlist afterwards. Basically, you're doing everything right!
2. Manual vs. Automatic iPod Syncing
Before I go further, I'd like to go over the difference between manual and automatic syncing, which is really pretty simple.
In manual syncing, you delete and add songs, podcasts, etc. manually. If you don't drag it over to the iPod, it won't be on your iPod, causing you to manually update every time you want to add or remove anything.
In automatic syncing, you click one button and your iPod updates, and copies additions/deletions on the fly. You can set paramaters to sync exactly what you want - which is what I do - and what I'll go over in just a bit.
3. Why Are My Songs Disappearing From My iPod?
This is a great question. When I got my first iPod, I fell victim to this too. If you decide to flip-flop between manual syncing and automatic syncing, iTunes will erase your iPod. Let me clarify though...
If you switch from automatic syncing to manual syncing, your data will remain intact.
However, if you switch from manual syncing to automatic syncing, your iPod will get wiped - which I'm guessing is what happened to you.
4. So What Should I Do To Sync Automatically?
Here's where I think your ultimate answer lies. Even if it wipes your iPod, make sure that you're all set to automatic sync. This will not delete files from your iTunes Library, only you iPod, so don't worry about losing your music. (Of course, make sure you always have your music backed up elsewhere just to be safe.) Here's what the option looks like:

Once you're set to automatic sync, make sure that you have all the options set correctly, so upon sync, it will copy everything over to your iPod that you want.
I also select the "sync only checked songs and videos" option. This way, I can keep songs in my iTunes Library that are not synced to my iPod - a nice way to customize what gets synced and save space, without the hassle of having to sync manually! Just check or uncheck the little box next to each song, podcast, etc. in your library.

Here, you can see one podcast that is "checked," and one that is not.

Now, see that tab bar at the top? You can control what you want to sync for each category of media that your iPod can handle.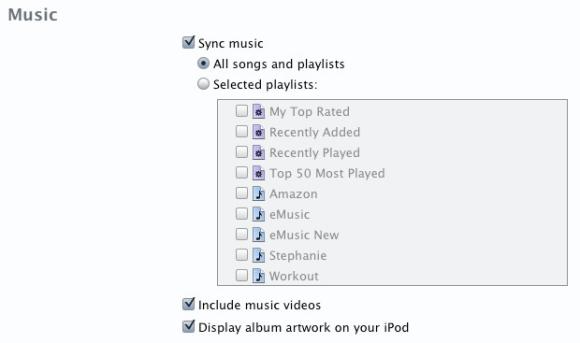 Here's the settings for the Music area. Note that you can sync all playlists, or only certain ones. I have selected to sync all of them. Each tab has similar settings.
Once you have all of this configured, go ahead and sync the iPod. You should be all set, let us know if you how it goes for you!
- The Experts
Have a technology question? Join the TechLore Community and Ask The Experts today!