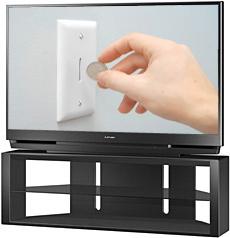 Question: On my Mitsubishi TV I have the option of "Fast Power On" or "Low Power." Fast Power On brings the the video up very fast and Low Power takes some time. They say that Low Power uses less energy, but TV power-on takes longer and some TV features may be unavailable.
What I am wondering is if I use the Low Power setting, would that extend my bulb life?
-submitted by Brandon C
Answer: Given the way that feature is worded and presented in the Mitsubishi TV's menu, I can see how it can be confusing. On other TVs I've used in the past, particularly with LCD, Plasma, and CRT sets, a low power mode often indicates that it's driving the image with less brightness and contrast, and thus operating using less electricity.
In Mitsubishi's case however, this is not true. Their Low Power / Fast Power On mode refers to how much electricity the TV uses while in stand by, not operating. Modern day televisions are commonly referred to as power or electricity 'vampires' since they continue to draw power from the wall even when off to support some of the various electronic doo-dads, like the clock or your video settings for example.
Mitsubishi's Low Power mode comes with some caveats. When operating in Low Power mode, there will be some features or functions that won't operate. These are:
You can't do recordings to an IEEE 1394 device while the TV is off.
You can't schedule future IEEE 1394 recordings for a time when the TV will be off.
You can't using the TV Timer function to turn on the TV at a preselected time.
The TV clock won't remain accurate for the TV Timer and for scheduling recordings. With the Low Power setting, you must reset the TV Clock if the TV is left turned off for over 48 hours.
You won't receive receive updates to the ChannelView channel listings.
Note: if you use a CableCard, you won't have the option to use the Low Power mode.
Using Low Power mode increases the boot up time.
As an advocate for a greener world, I would typically recommend taking advantage of energy savings. According to other reports online, the typically savings is in the neighborhood of around 10 to 12 watts between the two modes, which could equate to $15-20$ per year on your electric bill.
Many of the features disabled by this mode could be things you don't even use (besides the clock). If that's the case, and you can handle some additional start up time, it may very well help you save a little bit of coin.
For your lamp, however, it won't affect it in the slightest.
Have a technology question? Join the TechLore Community and Ask The Experts today!
Learn More About Televisions and Projectors at TechLore | See More Ask The Experts Answers