Ever notice how in real life, the engineers, mechanics, and managers behind the scenes often go unnoticed by the media and company peers? Usually, it's their much flashier counterparts such as outgoing salespeople, super-social marketers, and artsy designers that tend to steal the thunder.

The same thing goes for apps these days. Everybody goes ga-ga (GaGa?) over games like Angry Birds and Doodle Jump, photo apps like Instagram and Hipstamatic, and social networking portals like Twitter or Facebook.
As for me--my most used web app and mobile app is ToodleDo. Not a game, not a photo manipulation app, but a hardworking, down to earth to-do list.
Why ToodleDo?
Good question. Frankly, there are TONS of to-do apps available, ranging from online-only solutions to mobile apps to iPad apps and it goes on and on and on. I chose ToodleDo because while it remains simple to use--it contains many layers of customization that you can use if you like. Plus, it's pretty cheap--$14.95 per year. (For the record, Remember the Milk and Tadalist are two other programs I tried.)
There's a handy comparison chart on ToodleDo's site, but I'll break down some of the standout features for you.
Context
Many if not most to-do apps will allow you to attach tags to individual items, e.g., Work Project or Car Repair. But few allow you to also set a context to items--in other words, a location where the task would be performed, such as Work or Home.
In this way, you can easily separate your home and work tasks without having to create separate lists or tabs, and also without ruining your tags.
Customization
ToodleDo is one of the only to-do apps that allows you to change how your lists are displayed, remove fields you don't want or don't use, and reorder how things are displayed.
Sub-Tasks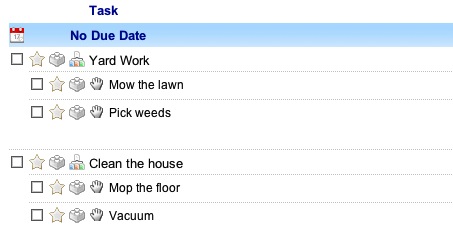 This is a HUGE feature that very few other programs provide. You have the ability to create single to-do items with tasks beneath them. Let's say you have a "Personal" list and want to create a task for an upcoming garage sale you want to put on. Of course, you don't want to create a whole separate list for the garage sale, nor do you want to clutter up your Personal list with garage sale tasks. The sub-tasks feature handles this with gusto--and you can even collapse the task in your list to get a more condensed view.
(Note--this is the feature that really sold me on the service.)
Notebook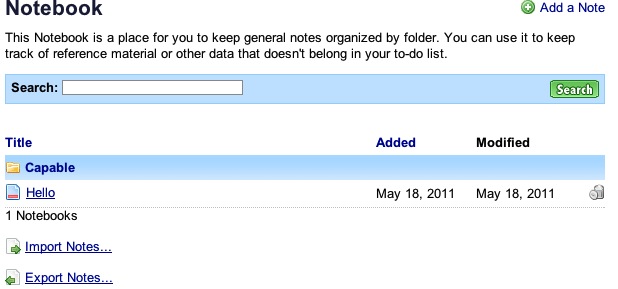 It's got a built in notebook, too. So you can create notes that don't necessarily belong with your to-dos, that are organized by folder. In this way, you can use ToodleDo to completely replace other note-taking apps as well.
Mobile and Remote Access
Of course, since it's synced online, you can access your to-do list and notes from virtually any Internet connected device with a capable browser. There are also official iPhone and iPad optimized apps available--but what really shines with ToodleDo is the third party support. Virtually every platform is supported by apps that sync or interface with ToodleDo--including Windows Phone, BlackBerry, Android, and more.
Conclusions
I've only covered a brief summary of the features I like the most that are pretty unique to this app... but there are tons more. The comparison chart is a great place to start, since it links directly to explanations of all the features included. I haven't even mentioned all the syncing and export options available, for example.
In short, if you're looking for the most feature filled, customizable to-do list available--ToodleDo is it.
(This app is not for the minimalists out there, though. For a much simpler approach to note-taking, I like TeuxDeux. It's "design-y" and artsy, but combines that with a great and functional UI.)