As many of our members are well aware, The TechLore Team has been working hard to make improvements to the community since our launch last December. We've received lots of feedback from members who've asked for an easy way to add images to their forum and discussion posts.

We've listened carefully, and have added our new TechLore Image Tool to all discussion areas. This new tool allows you to upload as many images as you wish and post them into your response. Even cooler is that images are saved per thread, so even if you come back to a discussion a week later, all the images you uploaded (whether they were posted or not) for that thread or discussion will be there in the tool screen.



How To Add an Image
To add images to your discussion post, click the red "Add Images" link above the text box and the TechLore Image Tool will appear. (If creating a new thread, you will not have the option to add images until the thread is created. Hit edit on your first post, and you'll be able to add images.)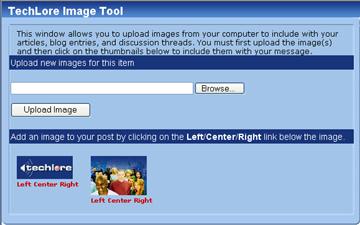 Hit the browse button, and locate the image you wish to upload. The image must be on your local computer and be in either JPEG or GIF format. Hit upload, and a thumbnail of the image will appear. Repeat this process to add as many images as you wish.

When you're ready to insert the image into your post, position your cursor to the area of your post you'd like to place your image. Then, in the Image Tool, click on the Left, Center, or Right (this determines how the image will be shown. We recommend you Center larger images) links underneath the thumbnail you wish to post. The appropriate HTML code will be inserted into your post automatically. Click Go when you are finished with your post, and your text and image(s) will appear!

If you have further questions about how to do this, use the discussion thread for this blog entry.



Responsibility
Adding image support does give us some concerns, though we have faith in the members of our fine community. For the few bad apples out there, please do not post images that are pornographic or offensive. Any image deemed to be offensive may result in the removal of the image, and the member, from TechLore.

If you find that a member has posted something distasteful, please report it by going here: http://www.techlore.com/feedback, and selecting report abuse in the drop-down box.