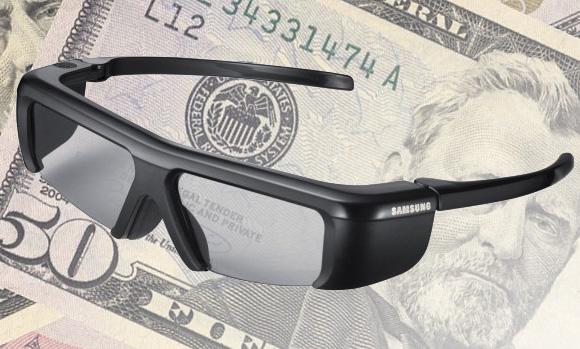 The general cost of a 3DTV has steadily declined over the past year, thanks in part to Samsung and Panasonic who have been pushing 3D capabilities in a large portion of their TV offerning. However, even though they've got TVs under $1000, the cost of the glasses has remained pretty steep; prices typically average $150 per pair. No typical family of four is going to spend $600 on glasses.
A bunch of passive 3DTVs shown off at CES from makers like Vizio and Toshiba are starting to find their way to market, and thanks to the cheap prices of passive glasses, active shutter companies are now having to compete.
As a result, Samsung has dropped the price of their base model 3D glasses, the SSG-3100GB, to a retail price of $50. That's a 60+ percent drop, folks!
Samsung has been giving away a starter kit, complete with 2 pairs of 3D glasses, with pretty much every 3DTV they've sold. Beginning April 24th, they're making that position official, stating that every Samsung 3DTV will come with two pairs of 3D glasses. D7000 purchasers and up will continue to get the starter kit, which includes some movies and other promo stuff, while models lower than the D7000 will just get the glasses.
When all said and done, a family of four can outfit the entire family of 3D glasses for $100. That's not a bad proposition.
Now that Samsung has pushed prices down, here's hoping it won't take long for everyone else to follow suit.