Huzzah... now I won't have to buy an extra handset!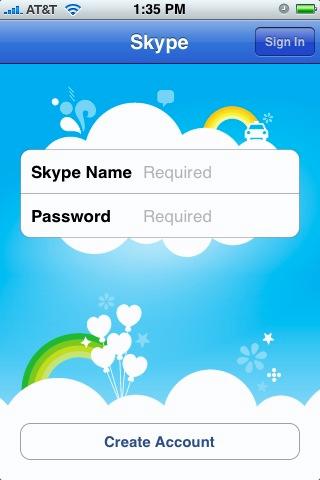 I've been using Skype for quite a while now, for both business and personal calls. It's a beautiful service, really, allowing me to make crystal-clear calls around the U.S. & Canada for virtually nothing (about $3 USD per month total for the service plus $20 USD per year for my own local number.) If you hadn't read my previous entry, see my other reasons why Skype is teh awesome.
Anyway, iPhone users who are also Skype-aholics can now rejoice, as your cell just became a mobile Skype handset. Currently, I'm using a USB headset with a mic to conduct my calls, which is nice when I'm working, but what if I'm doing things around the home or just want to pace while I'm on a call? There's some great solutions out there by NETGEAR and others to get a mobile handset via Wi-Fi, but the iPhone app has a distinct advantage... it's free! (Well, the app is free, and you already own the phone.)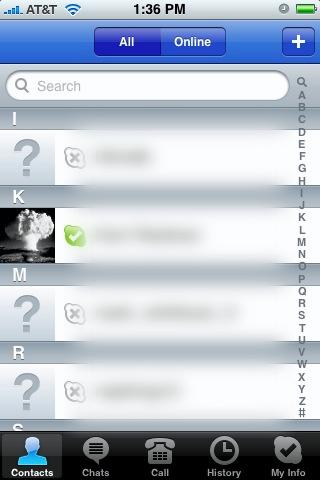 Upon launching the app you'll have to login to Skype or create an account. Upon logging in, you'll be greeted with a very standard-looking and operating iPhone app that is much more influenced by Apple sensibilities rather than Skype.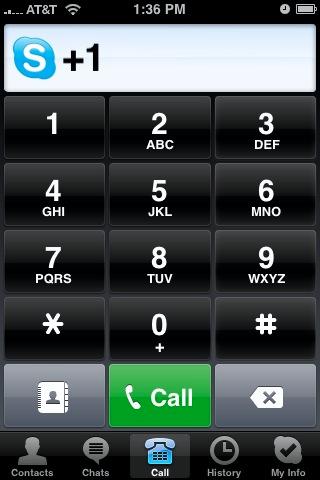 You'll be able to make Skype-to-Skype calls for free to your Skype contacts, which you can sort by "everyone" or just "users online." Making a call is simple - tap the recipient and make the call! If you have Skype Credit or a SkypeOut plan, you can dial any number that is in your contacts... the app speaks directly to your Address Book, just like the desktop app.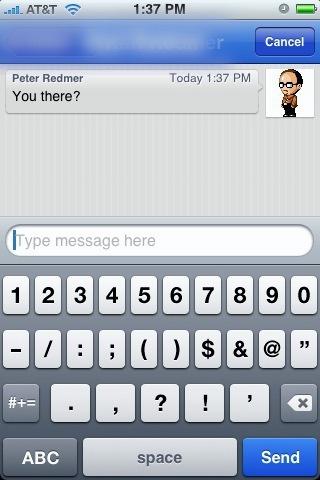 You can also chat with Skype users that are online using a slick, iChat-like interface, and check your missed/recent calls as well as messages. You can even see and edit your profile from within the app.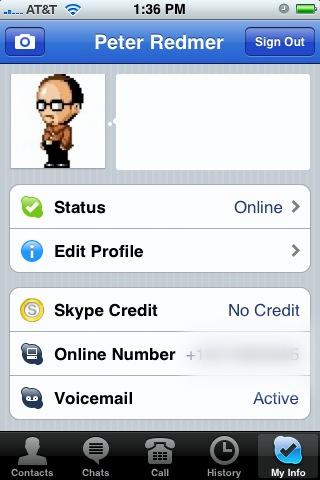 Call quality in my tests, according to my call recipient, was typical of any Skype connection - clear and generally good quality, but with a slight echo. In other words, you still know it's a Skype call, whether you're making it on an iPhone or not. I didn't experience any dropped calls in my tests, but we'll see how that is over the long term.
Overall, the Skype app for iPhone is amazingly functional and polished for an initial release. It still amazes me that this app, and the Skype service, comes at such a reasonable cost - free for many users. It's come under a bit of fire for not working over EDGE or 3G connections, but I actually expected that. It would be sweet if it worked over 3G, to be sure, but I'm happy enough to be able to use it over Wi-Fi and am not complaining! If you're an iPhone owner, you shouldn't waste any time in giving this application a permanent place on your dashboard.