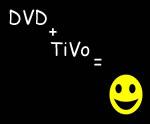 I have been making quite a few slide shows out of photos for Christmas this year. Using Nero Vision I have been making the slide shows and then burning them to DVD.
This is a great way to give out nice presents without much of an investment. But depending on the length of the show, the resolution if the photos and other things I have found that the preview function in Nero is just not enough to rely on. You really need to see them on the TV, especially with the large screen TVs now available.
The only problem is, after making the DVD and for some reason you want to make a change to the show, well, you already have created the DVD.
So you have to trash it and make another. This can get expensive.
So, instead of burning to DVD, testing it out, changing things, burning another, etc, we decided the easiest way to test them out on the big screen is to create the video and, using TiVo to Go, transfer them to the TiVo.
Here is how we do it.
After creating your show with Nero Vision, you burn the video to your hard drive. Just select "Write to Hard Disk Folder" instead of Burn to DVD.
This creates files exactly as it would for a DVD. So you will end up with a VIDEO_TS folder and inside it the VTS_01_0.VOB and other files.
Simply rename the VTS_01_0.VOB file to something like Myslideshow.mpg. Move the file to where you store your TiVo files, go to your TiVo and select the Myslideshow.mpg file and download it onto your TiVo.
Once copied you can watch it and note any changes you desire. Then go back to Nero Vision, make the changes and repeat again.
The best part though, is if the slide show is good to go, all you have to do is run Nero Express and burn the complete VIDEO_TS directory to a DVD. You don't have to render the show all over again.
Also, now you have the slide show saved on your TiVo. You can give the DVD as a present and keep it for yourself to watch whenever you want.