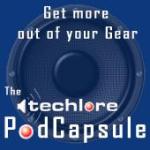 DVRs have made recording TV shows easier than ever, but are you getting the most from your TiVo, replay, or other DVR? Listen to this PodCapsule and learn how to get a phone or internet to your recorder from somewhere else in the home, whether or not your TiVo is spying on you, a way to always see the end of the big game, the inside scoop on upgrading your TiVo with special guest Lou Jacob, an early gadget adopters opinion of Akimbo, and more.
-hosted by Matt Whitlock
Listen to The PodCapsule
To save to your computer:
Right click the download link and select "Save Target As..." or "Save Link As..."
| | | | |
| --- | --- | --- | --- |
| | Download | WMA format optimized for Windows Media Player | 15.9 MB |
| | Download | AAC format for QuickTime, iTunes, and iPods | 16.2 MB |
| | Download | Universal MP3 format for all portable devices and PCs | 15.8 MB |
Subscribe
Click a badge below to subscribe to the TechLore PodCapsule. Don't forget to vote for the PodCapsule at your favorite podcast site!

Show Summary, Segments, & Resources
TechLore Time Machine - Did you know that the DVR concept goes back further than 40 years?

TechLore Quick Tip - 30 Second Skip for TiVo.

Get Phone or Web to Your DVR - Learn how to get a telephone or internet connection to your DVR from anywhere in the home.

TechLore Tech Term - Learn what TiVo means when used as slang.
Interview with Lou Jacob, founder of PTVupgrade - Learn how you can upgrade and enhance your TiVo from Lou Jacob, founder of PTVupgrade.

Ask The Experts Question - Sherree wants to know why her DVR doesn't record the end of the game, and learn how to never miss the end again.
Is Your TiVo Spying on You? - Does Your TiVo spy on you and report what you watch to a third party?

The DVR for Internet Content - What is Akimbo, and is it something you want? Find out from our very own early gadget adopter extraordinaire, Steven Jones.