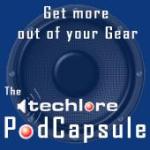 A portable electronic device with a dead battery isn't much fun to use. Whether you have a digital still camera, MP3 player, or camcorder, there are some things you can do to keep it running for a longer period of time. It's all about the battery, so listen to PodCapsule #2, and learn how to 'Empower' your portable.

-hosted by Matt Whitlock




Listen to The PodCapsule
To save to your computer:
Right click the download link and select "Save Target As..." or "Save Link As..."



| | | | |
| --- | --- | --- | --- |
| | Download | WMA format optimized for Windows Media Player | 11.5 MB |
| | Download | AAC format for QuickTime, iTunes, and iPods | 11.6 MB |
| | Download | Universal MP3 format for all portable devices and PCs | 11.4 MB |
Show Summary, Segments, & Resources
TechLore Time Machine - Do you know who made the alkaline battery the practical reality it is today?






TechLore Quick Tip - Squeeze a little more life from backlight devices.






Cellboost - Instand Power on the Go - Learn how to give your cell phone, iPod, or PSP a jolt of juice when you need it most.






Special Guest Interview - We talk to Brian Kimberlin about Panasonic's Oxyride battery, and how they can help you get more power on the go.






Ask The Experts Question - LizR wants to know if not using all of her iPod's battery before recharging it will degrade performance.






TechLore Tech Term - Do you know what "memory effect" means?




All Those Rechargeable Batteries - Learn about each common type of rechargeable batteries, and some tips about how to get the most out of them with every charge.