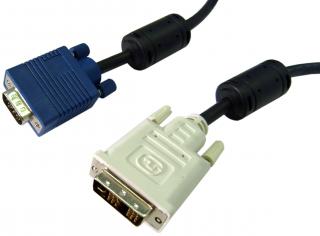 Question:
Which is a better connector DVI or VGA?
-submitted by TechLore member chuckeman
Answer:
Even though your question specifically focuses on DVI and VGA, I'm going to toss HDMI and Display Port into the mix to make sure I cover the bases for everyone.
When hooking up your PC or laptop to a monitor (or subsequently certain devices to TVs) you'll want to use the best quality connection possible. There are some key differences between all the major connection types that may not make choosing a "best" really possible, depending on the display you're connecting to, but for the most part, use the information below as a general rule.
VGA connections (made via a DB-15 connector) is the oldest PC connection still commonly in use today, although its use is diminishing now that computers and flat panel monitors are commonly supporting digital connection standards much more often. VGA connections carry analog signals to a monitor, via the RGBHV color format. This connection is prone to signal erros associated with analog signals, like image degredation, crosstalk, etc, but a moderately decent cable at short lengths will provide an excellent high-resolution image.
DVI is a much newer connection type than VGA, using digitally encoded pixel data transmitted in a highly error-resistent method. Displays that can directly handle video on a per-pixel basis (i.e. flat panel displays like LCD, Plasma, and OLED) can benefit from improved clarity and image quality because there are no conversions taking place and the video data is already in usable form. Analog displays, like CRT monitors, wouldn't really benefit from DVI because they would have to convert the signal to analog anyway, other than the improvement in transmission. Both VGA and DVI can handle various high resolutions and frame rates; the only major differences are how the video image is sent.
In general, you'll want to go with DVI if your flat panel display has it available. It will ensure you're getting the best image peformance from your source device.
Furthermore, HDMI is another common connection format quickly taking place of DVI (already has on CE devices and is now becoming much more common on PCs). In many ways, HDMI and DVI are cross compatible, but using HDMI specifically does have some advantages, like a much smaller cable connector, support for additional color spaces, and the ability to carry digital audio on the same connection.
Display Port is a royalty free connection standard also available, but not really catching on. The differences between HDMI and Display Port are much more technical, meaning from a quality perspective you won't really notice any difference.
As I always recommend, prioritize your quality connections based on what gear you use the most, what is available on your set, and what device will benefit from the quality connection the most.
Have a technology question? Join the TechLore Community and Ask The Experts today!