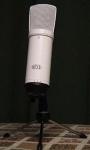 As Matt will tell you, I get a little excited about new stuff. Anyway, since I've started doing spots for a local radio station, I needed a way to record them at home. For the first spot I did, I used a Sony mini-disc microphone plugged into my X-Fi card; needless to say, the results weren't great. For the microphone upgrade, I decided on the Marshall MXL D.R.K—it comes with a padded case, XLR cable, XLR–1/8" adapter, and a 9V battery (yes, the battery is included).
I decided that perhaps I wanted a tube microphone preamp to go with it (and ditch the 9V battery in favor of 48V phantom power), so I headed to the local Guitar Center to get one. They guy there ("Buck") suggested that instead of using a tube preamp with my X-Fi, to get a better audio interface. I left the store with a Creative E-Mu 0404 USB (he knocked $50 off the price if I brought him my X-Fi card, which I did). At home, I was immediately impressed by the very clean sound of the E-Mu. I also liked the full-volume output of the headphone amp. I'll probably add the tube preamp later.
Before I dropped by the Guitar Center today to give Buck my X-Fi card, I stopped at RadioShack to get a gooseneck and a desk mic stand (the floor stand and boom I was using weren't cutting it). To be safe, I put the gooseneck on the desk stand in the store to check their stability. The base wobbled with only a light touch, so there was no way I was going to use that with my MLK and pop filter. At the Guitar Center, Buck brought me a Proline MS112BK desk stand (includes a boom). I was amazed at how heavy the base of the stand was, so that was all that I needed to see to start opening my wallet (Buck gave me a price break on the stand as well).
Matt is now jealous....
The left XLR input on the E-Mu crapped out in only three days. I went to the Guitar Center to exchange it, but they had to get another one from a different store. Instead of waiting for the replacement, I decided to get the M-Audio Fast Track Pro. It won't do 192 KHz like the E-Mu, and it's only USB 1.1, but it should work for what I'll be using it for. Here is a YouTube video of it (no, that's not me talking):