Mentally, the local and iconic Woodfield Mall represents Apple, at least to me. I bought my first Apple product there - an 800 MHz G3 iBook, which was my constant and never-failing companion for over four long, happy years. I bought a 3G iPod there, too.
I remember coming to the mall frequently, always stopping by the shiny, relatively new Apple Store and salivating over virtually everything, perusing and digging through the now-removed clearance and refurb section, hoping to find that great deal to make my credit card weep.
So I was there last weekend, after months and months of... well, not being there, and old memories flowed back to me of my first fond moments with Apple, like a first kiss or that one time I drove a BMW M3 and felt the rush of that many horses under my gas pedal.
Everybody Wants An iPod?
Walking around the mall and shopping, I overheard lots of people talking about Apple, too. Specifically, I overheard "maybe he'll forget about getting an iPod" and many other people mentioning "iPod" in passing conversation. Granted, tons and tons of people are asking for an iPod this holiday season, no?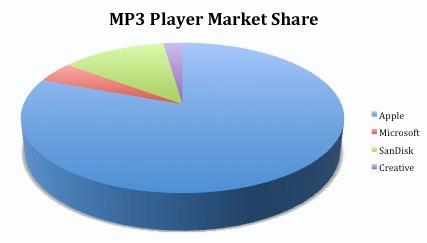 It was then I realized that big Microsoft's Zune player doesn't seem to get any cred. At all. I mean, iPod has a huge market share of the hard drive based MP3 player market (over 70%) and Zune only has 4% as of first quarter this year.
I have to say that this seems silly to me, and even though I'm a "Mac guy," I'd like to throw some props out to Zune. Fact is, the 120GB Zune makes a pretty solid competitor to the iPod Classic, and has some cool features too.
Why I Think the Zune Isn't So Bad
#1. Bigger Screen
The Zune has a bigger screen than the iPod Classic, did you know that? 3.2" compared to 2.5". That doesn't sound like much, but when you look at it as being 28% bigger... that's significant.
#2. Supports The Same Media

Yes, you can play your MP3, AAC, WMA, H.264, MPEG-4, and other media just fine.
#3. Built-In FM Radio
iPod doesn't have this, at least not that I know of. I wouldn't use it much, but I think a lot of people would.
#4. Buy From FM Radio
Like that song you heard on the radio? Near a hotspot? You can buy and download that song-they-didn't-announce-the-name-of with your Zune. Cool!
#5. Wireless Syncing
By far the coolest feature, in my opinion, you can sync to your library wirelessly. No need to connect to your computer. I hate plugging in my iPod!
#6. XBOX 360 Integration
Also quite cool, you can play music from your Zune on your favorite games by plugging in your Zune. Not sure how this would work, but it's promising.
If I Was a "PC," I'd Buy One
Given that I'm pretty much all Mac, a Zune wouldn't do me much good. It would be kinda like buying a bathing suit to wear at the North Pole. It might look nice, but I couldn't really effectively use it.
However, pound for pound, the Zune seems to have a lot more going for it than the iPod. Built-in wireless syncing and sharing, bigger screen, XBOX 360 tie-in... why wouldn't you choose it?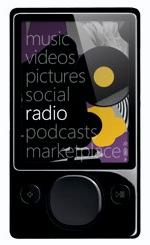 Let's face it, I love Apple, and they've done an awesome job at branding their products and giving them a personality. And Microsoft is thought by many to produce an inferior product to Apple. However, I don't think that's the case with Zune, and I'm betting that if more people knew what Zune has to offer, they might reconsider that iPod purchase!
I would love to hear from fellow iPod owners and Zune owners alike - what do you think? Is Zune a better player? Or are you an iPod only kinda guy/gal?
(Oh, and if it sways you either way... looks like President-Elect Obama uses a Zune!)