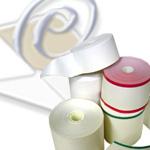 Another day, another annoyance to complain about. This particular issue isn't related to gadgets, but e-mail is now one of the (if not THE) primary form of communication among individuals, and without technology, it wouldn't be the case.
Those in a corporate enviornment have no doubt encountered the e-mail read receipt, and probably send some or all messages requesting one yourself. Home users may not have ever had to deal with them since not all e-mail clients, particularly in the free online services, support them.
So what is a read receipt? For those who have never seen one, read receipts are a form of e-mail tracking. Quoth the Wikipedia:
"E-mail tracking is useful when the sender wants to know if the intended recipient actually received the e-mail, or if they clicked the links. However, due to the nature of the technology, e-mail tracking cannot be considered an absolutely accurate indicator that a message was opened or read by the recipient.
Some e-mail applications, such as Microsoft Office Outlook, employ a read-receipt tracking mechanism. The sender selects the receipt request option prior to sending the message, and then upon sending, each recipient has the option of notifying the sender that the message was received and/or read by the recipient." - (http://en.wikipedia.org/wiki/E-mail_tracking)
Once you get past the big brother mentality, you can understand the usefulness of read receipts. Say, a home user for example, could send information to a friend about a change in time to a party you're hosting that evening. You flag it to request a read receipt in order to make sure they have read the e-mail in time and are aware of the change. If you don't get one, you know they didn't get it, and can call them so they're not early or late.
Read receipts aren't perfect though, since the user can choose at the time to send the receipt or not. However, when used as intended, it's a valuable tool.
Herein lies the problem, which I'm calling "Read Receipt Abuse." Several e-mail clients have a little option buried in the menus that will attach a read receipt request to all outgoing messages... no matter how irrelevant. Given the way the feature is described, it seems like a good thing to have and inevitably gets checked. What users don't realize is that everytime someone reads an e-mail from these abusers, a warning dialog pops up and forces you to make a choice.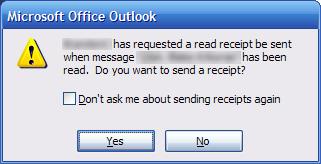 After 20 or 30 of these intrusions, it gets very tempting to click the NO button and choose to never ask you again. However, this appears to be a global setting that will affect receipt requests from all users, not just the abuser. Sometimes a receipt makes sense, and you'll WANT to send one.
So, why not click YES and check the "don't ask me again" box? You can, but this level of e-mail tracking can be somewhat invasive. Say you read a message asking you to do something unimportant, but you don't have time to respond or want to put it off. The abuser will know you saw the message and can give you the cold shoulder for not reacting. Plus, you don't exactly want to send receipts to e-mail marketers.
In the end, home users that rely on more powerful e-mail options than the free service will end up having to say yes or no to each message individually. Well, I've clicked my last NO, and am declaring a new law - Matt's Tech Law #3
NEVER ask for an e-mail read receipt unless the message is extremely time sensitive, or is imperitive you know it was read. The sender agrees to make a cognitive decision which individual messages warrant a receipt, and will not send all messages requesting one. In return, the receiver vows to send the receipt when requested.
So the next time your friend e-mails you requesting a receipt in a message that doesn't warrant it, send them a custom receipt of your own... with a few harsh words attached and a link to Matt's Tech Law #3. Together we can end the intrusive use of e-mail read receipts... once and for all.