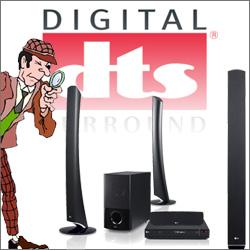 Question from TechLore Member snypy:
I bought a new LG HT554TH home cinema that plays Dolby Digital fine, but when I select DTS I get no sound at all, although the device display indicates that source as DTS. I asked LG technical support, but their answers were total wrong. In fact, they did not tell me anything at all, and then claimed that my home cinema does not support DTS sound at all despite their official specifications.
So, I'd like to ask, is there any way to make DTS sound work or not? The setup menu does not offer many options (in fact not a single one about Dolby Digital or DTS setup - not even in the manual) or should I send it in for service? It is still under warranty - but I'd like to know if there is a solution or anything which may help me when talking to a service staff.
Answer:
I'm not sure how to break it to you, but based on the information I've been able to uncover (and regardless of what it says on their website), I'd be willing to bet the LG HT554TH does not play DTS sound. It may recognize it, but that doesn't mean it will play it.
The big indicator is what I saw, or should I say what I did NOT see,
in the user manual. Any product licensed for DTS playback would sport the DTS logo in the user manual, along with a footnote calling out the DTS trademark. I see every logo under the sun in that manual (screenshot below), but the DTS logo isn't shown.

Interestingly enough, it probably does sport a DTS decoder since the vast majoirty of DSP processors combine Dolby Digital, DTS, MP3, and other playback formats to save cost, but the DTS portion simply is disabled. If so, LG chose not to pay the licencing fees to enable DTS playback on this model. That would explain why it can recognize DTS, but refuses to decode and play it. That said, it may be able to pass DTS via HDMI (maybe)... not that you'd use this audio system in conjuction with another. That would just be crazy.
As far as their website indicating DTS playback as a feature... I'd say it's your run-of-the-mill error. It's not the first time something like this has happened, and it probably won't be the last. If DTS playback is truly important to you (and since you indicated you've recently purchased it), your only real option is to pack it up and return it, then begin the hunt for something else.
If returning it isn't an option, try look on the bright side. Most can't discern the difference between source materials encoded in Dolby Digital and DTS in head to head tests, and most discussions/debates on the topic typically go nowhere. Audio specifications on paper can tell one story, but at the end of the day, how you perceive those sound waves when they hit your ear is entirely subjective.
UPDATE: It looks like the cool-cats over at AVS may have a workaround to enable DTS playback through the service menus, as some have indicated success. More here >>
Have a technology question? Join the TechLore Community and Ask The Experts today!