...and it was only 12 stinkin' bucks.
My whole life, I've zealously protected my gadgets with cases and screen protectors, and in recent times, cases with built-in stands for my tablets.
However, the current crop of svelte, super-sexy tablets like my iPad mini and Asus Nexus 7 demand to be used "naked." The iPad mini feels positively industrial, almost alien, due to its cool metal backing and extreme thinness. The Nexus 7 feels familiar yet sporty with its "perforated" rubberized back, which resembles (not coincidentally, I imagine) a leather-wrapped sports car steering wheel.
I don't want to experience these devices with "protection." I want to raw dog these gorgeous gadgets.
Do you know how hard that is to do without getting a full case with built in stand? Do you? Try going to your local Awesome Buy or Office Shmaxx and getting just a stand that can be used to prop your tablet up without wrapping it up in some stupid overpriced sheath. I finally found one, of the Rocketfish variety, but it had several fatal flaws. First was that in landscape mode, the top of the stand would awkwardly stick out over the top. Lame. Second was that it was made of metal. Yes, there was a little rubber Rocketfish logo on the back to (presumably) stop the tablet from scraping the metal, but it was thin and useless. It would have scratched the living daylights out of my shiny new iPad mini. No thanks.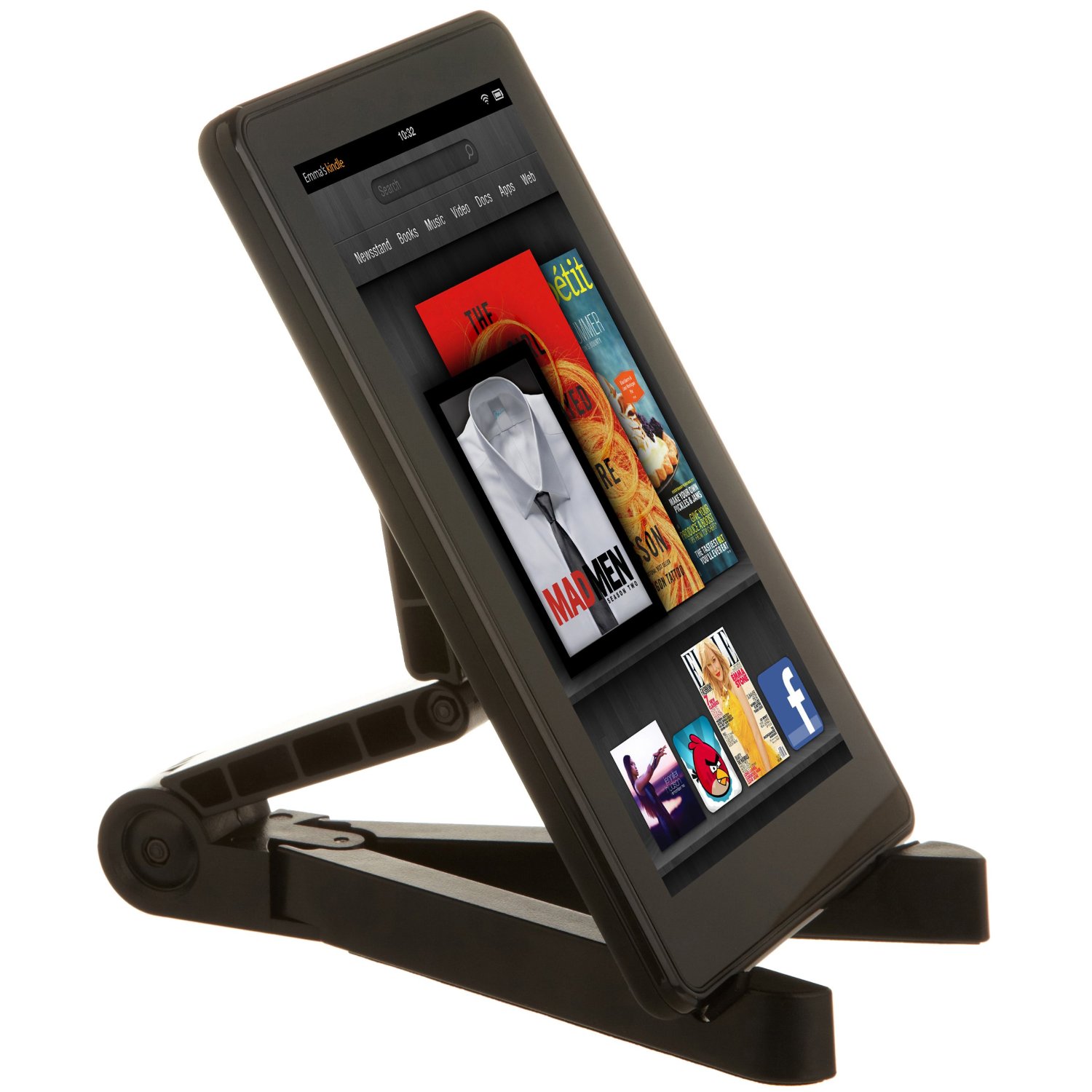 I had almost given up when I found this little gem on Amazon: the AmazonBasics fold-up travel stand. This thing is seriously boss, I tell you. Only the U.S. Gymnastics team is more flexible, plus it does a great job securing both tablets, which are different sizes and form factors.
Each contact surface is covered with a soft, grippy material that not only holds the tablet in place but prevents damage. Plus, the bottom surfaces are covered with this as well, allowing the stand to stay firmly planted whether on a table, desk, or even a pillow while you're sitting on the couch. It even feels pretty sturdy and well made.
In short -- this ended my search for a sensible, reasonably-priced way to prop my tablets up during use while retaining the ability to experience them case free.