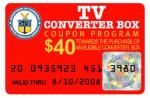 With a year to go until analog TV broadcasts give way to digital, the federal government on Tuesday started mailing $40 discount coupons for digital converter boxes to consumers who requested them.
Do you need one? And if so, do you really need one now?
Only consumers with older analog TVs who get their programming solely over the air — not through cable or satellite service — will need to plug their rooftop antenna or pair of rabbit ears into a converter box.
If you use an antenna to watch television, your older set won't work after Feb. 17, 2009. One year from now all over-the-air TV broadcasts will be strictly digital.
Analog TV is going away and your old television can't receive the new digital TV signal. So, if you use an antenna to watch TV, you'll need to buy a digital converter box for your older TV.
As a side note if you use satellite or cable, you aren't affected.
Converter boxes will sell for $50 to $70 and the government will even help you buy one.
They will send households two coupons to buy converter boxes good for $40.
It's not too often the government offers you $80 to watch TV! To request a coupon, consumers can apply online at www.dtv2009.gov. The government also has set up a 24-hour hotline to take requests, 1-888-DTV-2009 (1-888-388-2009).
The coupons will start arriving in mailboxes late this month. You'll have your choice of at least 15 different brands.
You could decide to just buy cable or an HD capable TV but, don't forget about those extra TV sets you have in your bedrooms and kitchen. If they're not digital or hooked up to cable or satellite you're going to have to get boxes for them.
Here is a list of eligible boxes.
Coupon Eligible Converter Boxes (CECB)
The NTIA will maintain a list of approved CECBs to distribute to consumers and participating retailers.
The following is the list of approved CECBs.
AMTC AT-2016
AccessHD DTA1010U
AccessHD DTA1010D
AccessHD DTA1020U
AccessHD DTA1020D
Apex DT1001
Apex DT1002
Artec T3APro
Artec T3A
CASTi CAX-01
COSHIP N9900T
DigitalSTREAM D2A1D10
DigitalSTREAM DTX9900
DigitalSTREAM D2A1D20
ECHOSTAR TR-40

*

GE 22729
GE 22730
Goodmind DTA900
Goodmind DTA1000
Goodmind DTA980
Insignia NS-DXA1

Kingbox K8V8
Lasonic LTA-260
Lasonic LTR-260
Magnavox TB100MW9
Magnavox TB-100MG9

*

MaxMedia MMDTVB03
MicroGEM MG2000
Mustek MAT-K50
Philco TB150HH9

*

Philco TB100HH9

*

RCA DTA 800B
RCA DTA 800A
Sansonic FT300RT
Sansonic FT300A
Skardin DTR-0727
Synergy Global Supply SYN2009
TATUNG TDB3000
Tivax STB-T9
VENTURER STB7766G
ZINWELL ZAT-856
Zenith DTT900
*The manufacturer has indicated that these models are capable of passing analog signals through to the TV set.