I'll confess... I've been a little obsessed with the news lately. What with the recent presidential election and the ongoing financial disaster, it seems only natural to be more interested in tailing current events than ever. It took a while for me to truly jump on board, but once I got all my RSS feeds up and running, synced with NetNewsWire, and ready to go, I'm a virtual dumping ground for all things headline.
Tech, finance, and world news updates pour into my reader(s) faster than bailout money into AIG's coffers, and I can barely keep up.
That being said, I'm fortunate enough to possess one of the best mobile news readers around: the iPhone.
I simply can't imagine that any other mobile phone out there can keep up. With the selection of news apps available via the App Store combined with "iPhone friendly" websites, you've got an unstoppable combination. I wanted to share what I feel are the "best" news apps and sites for your iPhone... you might just become an addict yourself.
Bloomberg (Stand Alone App)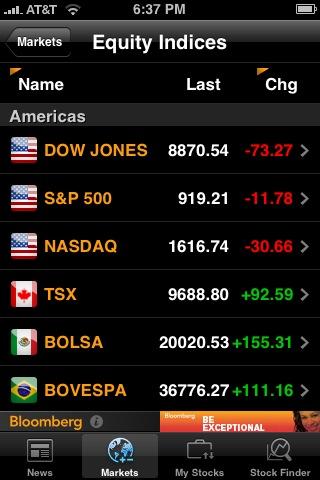 Available as an application from the App Store, the Bloomberg app delivers. I especially love the orange-on-black theme, as I not only find it catchy and unique, but easy to read as well. You can customize exactly what news you want to read. Finally, it has a comprehensive stock and equity indices viewer, with a nifty rotate function. A must have for iPhone owners looking to keep up on the world of finance!
The New York Times (Stand Alone App)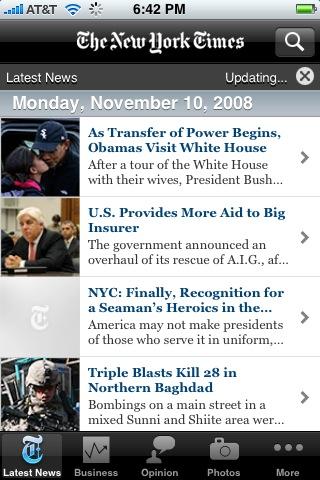 Also available as a standalone application, the New York Times has given iPhone aficionados their own mobile version to tote along with them. The look of the application is crisp and I love the font they use! At times, though, it seems to perform and update sluggishly... in addition, I've had it crash more than a few times. Great if you love the NYT specifically, but needs work in terms of stability.
AP Mobile News (Stand Alone App)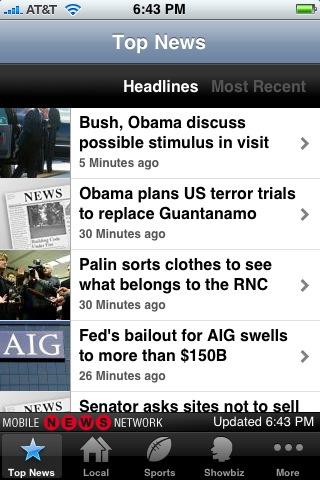 The best of the "general news" applications. Updates faster than the NYT app and is cleaner overall. Nicely integrates photos and videos - you can "flick" though photos attached to articles just like the iPhone native interface! A must have.
Reuters (Mobile Site)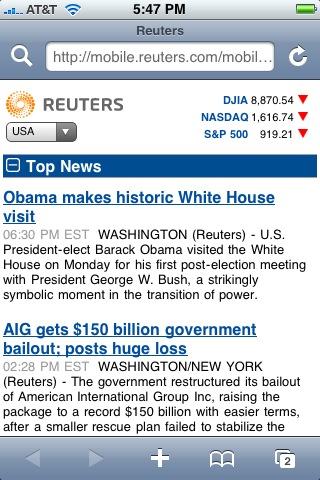 Found at http://mobile.reuters.com this web based reader for Reuters content has a beautiful and easy to navigate format - the drop down box allowing to select your country and the stock tickers are a nice touch. Articles have a nice photo slideshow feature and load quickly.
MSNBC (Mobile Site)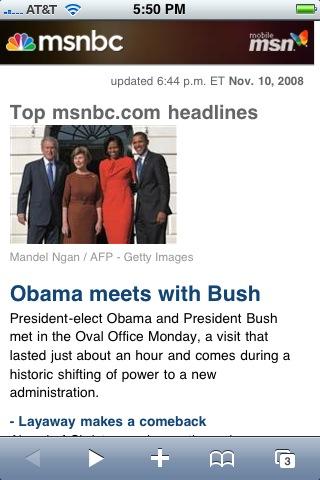 Another well designed mobile site, MSNBC is clear and well-laid out. I don't feel it presents information as well as Reuters, but makes a good alternative for news. You can find it at http://www.msnbc.msn.com
USA Today (Web App)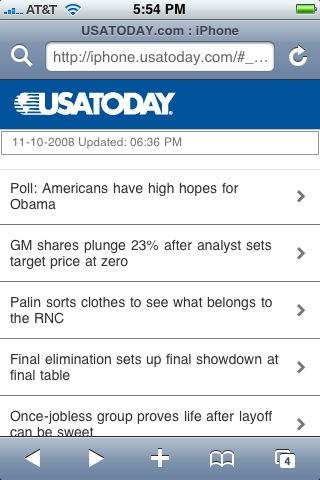 USA Today's has a very "webapp-y" feel to it, similar to older iPhone web apps... but I still like it. No frills or thrills, USA Today's web based news reader really gets down to business. From the clean layout to the color coded subject tabs to unique features like a front page stock ticker in the Money section, this web app is a great source for news on your iPhone. You can get there by navigating to http://iphone.usatoday.com
TIME (Web App)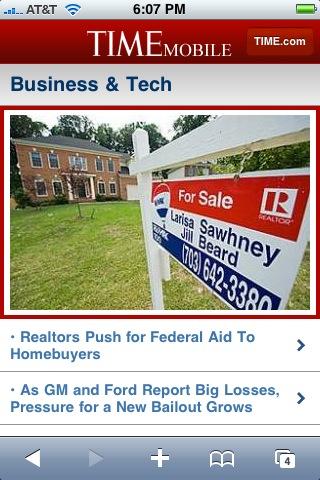 Built on (seemingly) the same platform as the USA Today app, and comes complete with the same cool slidy-thing that it does when you choose an article to read (yes, that's the technical terminology) as well as a very similar interface. It's more photo rich than the USA Today app and has a lot to offer! Can be found at http://mobile.time.com
Google Reader (Web App)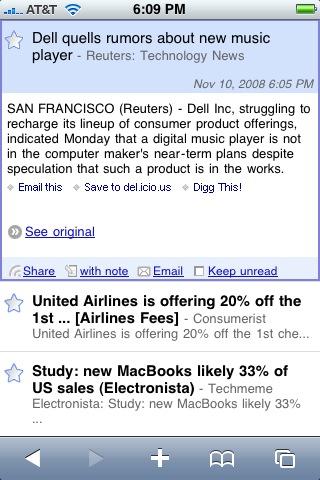 This is one delicious app. If you're a Google user (who isn't?) you may already have set up some RSS feeds in your desktop Google Reader. If so, all you need to do is sign into the app on your iPhone, found at http://www.google.com/reader, and you'll be presented with the slick iPhone friendly interface. There's too many reasons to list why I love this app, but let's limit it to the syncing of read feeds, easy progression through feeds, in-line images, and fast navigation.
NewsGator Mobile (Web App)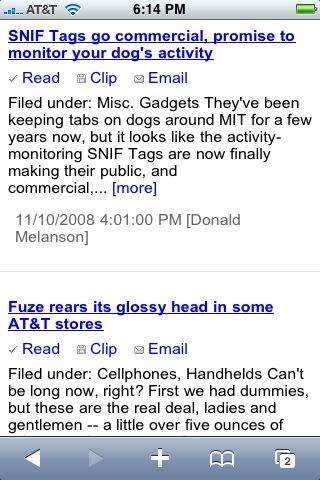 While NewsGator's iPhone web app isn't as slick as Google Reader's, I use it religiously to sync my read/unread feeds between my phone and desktop, where I am a devout NetNewsWire user (and hate Google Reader's desktop app.) It works equally as well but is too sparse and doesn't feel as tight as Google's mobile alternative. The long and short of it - if you're not bound to NetNewsWire on the Mac, go with Google Reader... but NetNewsWire gets the job done. You'll need to sign up for an account. Found at http://m.newsgator.com/iPhone
Conclusion
Overall, I haven't yet found a better communications device than the iPhone. While not only having (in my opinion) the slickest and most feature rich interface out there, the beautiful touchscreen allows news sites and applications to really shine. If you're an iPhone user, and really into news, give any of these apps a try!