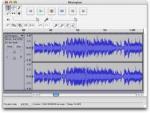 For those who have read some of my other blog entries, you'll notice that I'm into audio recording, at least voice recording (for now). The program I use to put my voice tracks on top of music is Audacity.
Why Audacity?
It's free.
It has multitracking capability.
There are tons of free plug-ins for it.
It's not difficult to learn, especially with quick guides such as this.
It's compatible with various platforms (Windows, Mac, Linux).
Did I say it's free?
It was a little daunting at first, but I figured out most of it by clicking on things to see what they did. Of course, it was a bit easier once I found a quick tutorial for it (linked to above).
I tried various other programs; Wavelab Lite and Cubase LE were stripped-down versions that came with the first audio interface I got. Wavosaur seemed like a pretty good [free] wave editor, but it only supports two tracks, and only works with Windows. Kristal seemed like a good multitrack program, but in order to edit a wave file, you have to use another program (such as Wavosaur). I also tried the tryout version of Adobe Audition, but that is overkill for what I'm doing, and I would have to pay quite a bit of money for the fully-functional version. After experimenting with all of those, I kept coming back to Audacity, where I plan to stay for a while. Have I stated that it's free?