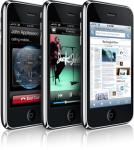 With the enormous amount of media coverage regarding Jobs' latest wonder toy, you probably already know the newest version of Apple's iPhone hit stores today. If you're not the type to read the 15,000 different reviews on it for every teeny, tiny detail, here's everything you need to know in this 2 Minute Overview and Review Roundup.
iPhone 3G Goes 3G (though you probably guessed that one)
The major difference between the original and Apple's latest iPhone is the inclusion of a 3G radio (hence the name), moving from AT&T's aged (and slower) EDGE network to their faster 3G service. This allows the iPhone to download data at speeds 2 to 3 times the original based on current reviews, but with the drawback of increased power usage and shorter battery life.
Form Factor
On the form factor side, iPhone 3G is largely similar to the first, but with a slightly fatter profile. Initial reviewers have complained about the switch from a purdy silver metallic back on the original to solid glossy-black or white plastic, though the build quality still feels superb. It's all a matter of personal taste, even according to Ryan Block over at Engadget, but I'd also say it's a change that leaves no surface on the iPhone that won't get all smudgy with fingerprints.
Accurate Location Awareness Via GPS
Apple's also built in a GPS antenna for better location based features and services. This is common in other cell phones these days and should work just as well as any other (even though NYT's David Pogue says it's too small... whatever that means), though it's important to remember that (at least as of now) this isn't a replacement for your handy car GPS nav system. Location awareness and full routing capabilities are two way, way different things.
Third Party Support - Apps Store
Another big change in iPhone 3G is the inclusion of third party application support. The all new Apple Apps Store in iTunes is a place where you can purchase and download new applications and run them on your iPhone (legitimately... without having to jailbreak the phone). Original iPhone owners aren't left out in the cold though thanks to the iPhone 2.0 update released yesterday - giving all iPhone junkies, new and old, yet another reason to drop more coin in iTunes.
Be Prepared to Fork Over More Per Month
On a final note, iPhone 3G marks the move to AT&T's normal voice and data plan pricing. Meaning original iPhone owners may need to step back and evaluate if the increase in monthly cost plus the required 2-year committment to get the iPhone 3G on the cheap is worth it. For most, you could be looking at another $20 to $30 per month for the same stuff. If you're a newbie to the iPhone, remember that this is a high-end smartphone, and that also means high-end monthly rates to make it run.