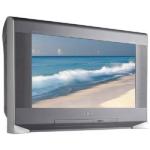 Available Sizes:Sizes 9" - 40"
Advantages:
The image quality is excellent - in many ways superior to other newer technologies.
The prices are affordable - Many tube sets cost way less than flat panel competitors.
Familiar technology - Who hasn't owned a tube TV at one point or another?
Excellent Viewing Angles - You can see the image from nearly any angle.
Disdvantages: