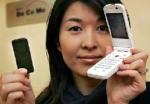 The Japanese have been using cell phones for a couple years now that allow consumers to purchase any number of goods.
They do this by simply swiping their phone instead of a credit card. Cell phones embedded with smart cards are placed near a touch pad reader.
This enables it to perform the function of a credit card.
Nothing new really. But what has happened is it has caused a problem with Cell Phone Stealing.
If you get access to someone's cell phone you can easily buy whatever you want by simply swiping their phone.
This has lead to other inventions to prevent this and several companies are coming up with ways to prevent this.