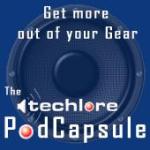 Today, every electronic component you add to your home theater system, whether it be a TV, DVD player, DVR, cable box, or even game systems, all seem to come with their own remote control. Sooner or later, you may end up juggling eight or more remotes in order to operate your system. Tune in to PodCapsule #6 to get a better understanding of what a "universal" remote really is, how to set up a macro, how to finally conceal all your A/V components without limiting your ability to control them, and more!
-hosted by Matt Whitlock
Listen to The PodCapsule
To save to your computer:
Right click the download link and select "Save Target As..." or "Save Link As..."
| | | | |
| --- | --- | --- | --- |
| | Download | WMA format optimized for Windows Media Player | 9.3 MB |
| | Download | AAC format for QuickTime, iTunes, and iPods | 9.5 MB |
| | Download | Universal MP3 format for all portable devices and PCs | 9.2 MB |
Subscribe
Click a badge below to subscribe to the TechLore PodCapsule. Don't forget to vote for the PodCapsule at your favorite podcast site!

Show Summary, Segments, & Resources
TechLore Time Machine - Do you know what the first wireless TV remote was? (3:00)


TechLore Tech Term - Learn what "IR" means. (5:50)
"Universal" Remote Controls - Are universal remotes actually universal? (6:37)


Hide Your A/V Components For Good - Learn how you can hide your A/V components without sacrificing the ability to control them. (9:50)


TechLore Quick Tip - What to do when your Plasma TV disrupts your remote commands. (11:55)


Ask The Experts Question - Harmony wants to know how to change the channel without having the original remote.
(12:40)


Using Macros to Simplify Control - Learn the basics of macros, and how you can use them to make controlling your gear easy. (16:03)