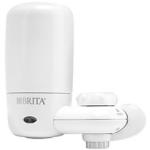 The 94 degree weather has reminded me of another gadget that I LOVE...

I have a Brita water filter. I hate the taste of the water in my town, it really has a strong bleachy taste some times. Bottled water is expensive, so I bought a filter for my tap. It has a light on it that will turn red when it is time to replace the filter.

It really improves the taste of water, it also improves the taste of the cofee that I make with the water.

This is a great product I would reccomend to anyone who wants to improve the taste and quality of their drinking water.