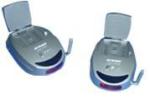 A TechLore "Ask the Experts" Question...
Question:

Hi,
We have a great 36" Panasonic HDTV on one side of our family room and a great Onkyo receiver on the other side. We want to play the audio of our TV through the stereo. How can I connect the 2 without tearing up our wall to install new wires?
We tried a US Robotics Soundlink, but there is a great amount of background static in the audio. Do you have another suggestion?
Thanks,
Dave Hirsch