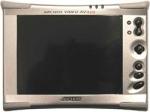 Orignally created 6/23/2003
What does Overclock mean?
Overclocking means running the CPU (DSP) at a higher frequency - all CPUs run at a set Frequency. For the AV300/AV100s the options are: 94.5, 99, and 108mhz (Standard, Overclock Yellow, Overclock Red).
What does the Overclock setting do?
This allows you to choose the frequency. The higher the frequency, the more power it uses (so you get shorter battery life), but the faster things will run:

Increased maximum video playback resolution (see the Video Res FAQ for details)
Increase the DVR video recording quality.
Decrease (improve) photo load time
What are the downsides to overclocking?
Higher overclocking will run your batteries down faster.
Higher overclocking generates more heat
If the CPU (DSP) gets too hot, it may shut down. You'll have to wait for it to cool off before turning it back on. (Speculation - I haven't seen it do this yet.)
This article was originally posted on www.shanebrinkmandavis.com/homepage/archos/.